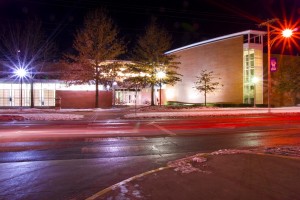 Energy
Energy consumption is not only costly, but can result in increased pollutants. Truman State University is working to counter these problems by initiating both small and large scale solutions to lowering energy consumption while also continuing to provide clean energy through our newly installed solar panels.
Reducing Energy Consumption
Truman State has been measuring its energy consumption and is implementing appropriate measures to lower it. In Spring 2015, we signed a $10.5 million Energy Performance Contract which will help us continue to build a sustainable and responsible campus and community, and to save up to $1 million annually.
Here are just a few examples of ways Truman State has implemented small but important changes across campus:
Four Truman buildings use building automation systems to control air temperature and program unoccupied times: Truman Visitor Center, Ophelia Parish, Barnett Hall and the Health Sciences Building.
All sidewalk lamps were retrofitted to LED lights in September 2015, along with parking lot lights.
Certain locations have been outfitted with Leviton sensors to help control light usage when no one is present. We hope to continue to add these sensors in more locations soon.
In Spring 2017, Truman State entered into a $10.5 million energy performance contract that affected more than 25 buildings on campus and is projected to save over $1 million annually. The energy improvements will:
Reduce water consumption by over 8 million gallons annually- this amount of water would fill nearly 14 Olympic-sized pools.
Reduce natural gas consumption by over 50,500 million cubic feet annually.
Reduce electrical consumption by nearly 7.5 million kilowatts per hour annually.
Reduce Truman State's annual carbon footprint by 20,990,000 pounds.
Clean and Renewable Energy
Solar panels are stationed on five different buildings across campus: Barnett Hall, Ophelia Parish, The Student Union Building, Magruder Hall, and the Health and Sciences Building. In the 2014-2015 academic year, Truman saw a reduction of 113.5 tons of C02 emissions by producing 108 kW of useable energy from these solar panels.