Diversity and Affordability
Diversity is what gives Truman State University its strength and uniqueness. By supporting diversity on campus, we hope to provide access to higher education to as many people as possible. The following pages list some of the ways Truman has implemented programs to help foster diversity and support on campus.
Diversity: This page showcases some of the ways Truman has assessed our current levels of diversity, as well as plan for future access for all kinds of students.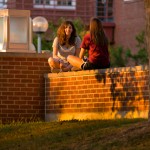 Affordability and Support: This page lists a few of the ways that we have been able to provide access to low-income students both in the admissions and financial aid process as well as in the education process.