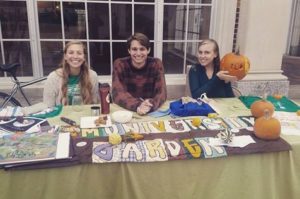 Sustainability is an ever-growing concept on Truman's campus. Sometimes the sustainability efforts need an extra helping hand, and that's where Becca Elder comes in. Becca Elder is a senior Environmental Studies major at Truman State. Elder is also the main Sustainability Intern on campus. In 2016, Becca proposed the idea of an internship to the President's Sustainability Action Committee. Elder felt Truman had a lot of different environmental efforts which needed advocacy and coordination. Such needs could be organized by a sustainability intern and office. Collaborating with Donna Liss, Elder started on the journey of creating an office where students and community members alike could learn more about how to protect the environment.
"The main goal of the office is to connect and promote. The office strives to cultivate an environmentally-conscious culture of students on campus. The [office] has information about how to get involved in sustainability-related organizations, environmental courses, and how to live more sustainably in Kirksville. The Office of Sustainability workers are also currently planning several events to bring different groups of people together around sustainability, including a World Water Day celebration, a local foods dinner/recycling fashion show in conjunction with Health Science students, ECO, and the Green Thumb Project, and a recycling drive," Elder says.
Becca partook in a Q&A session about how students could get involved in sustainability on campus, challenges and action plans of Truman's sustainability, and her long-term goals.
Q. What are some ideal characteristics of a successful sustainability intern?
A. " A successful intern should be dedicated to the cause, have a desire to cultivate sustainability, a high level of ambition, likes starting new things, tries to stay as involved in as many loops as possible, and has connections which render very helpful for someone in this position."
Q. How long have you been involved in sustainability work here at Truman? What are some events that you've taken part in or helped organize?
A. "My freshman year, second semester, I joined ECO and the Garden Club. Since then, I have been doing as much as possible to promote sustainability. I have worked as a Green Thumb scholarship worker,  and an employee for AmeriCorps.  I was the Grassroots Environmentalism student teacher. I also worked at Take Root Café: coordinated volunteers and worked to get the Truman community more involved with the cafe. I will continue to work with Take Root after graduation."
Q. What does sustainability mean to you?
A. "Sustainability is a way of life, a way of functioning in society that is inclusive of environmental and communal needs, and that will create a thriving livelihood of all beings for long term. If we really had this sustainability thing figured out, we would be closer to each other and happier as a community."
Q. What is your strategy plan for getting students and the community more involved?
A. "Networks created between service organizations and sustainability organizations help. When there is a need, an email is sent out to let these groups know how they can help. Examples include sustainability week and earth week, and world water day, which occurs this semester. Bringing these organizations together makes it easier for the smaller organizations to create a more successful outcome. We are at the stage of 'What can we do to promote sustainability?', not necessarily set-in-stone stages."
Q. What would you say are the main environmental and economic challenges at Truman?
A. "Budget cuts are a big challenge. For example, the Compost Project had all of their funding taken away. Distributing the university farm's food is way too expensive, and the farmer is overworked. One solution I believe would potentially work is students looking into practicums for credit hours. They could work at Take Root, or as a sustainability intern. It would save the university money. However, students have such a high turnover rate so getting a student to stay in office for several years is hard."