There are many opportunities to get involved in sustainability at Truman State University and in the Kirksville Community. 
Campus Organizations
Bulldog Biodiesel: Bulldog Biodiesel is a waste-reducing effort on campus that began in 2007 as a collaborative effort between the Agriculture Science Senior Practicum and the American Chemical Society (ACS). Students can get involved in this effort through volunteering or by working for the lab as a scholarship worker. Construction of a new biodiesel lab space at the University Farm was completed in 2020 and the final preparations to begin processing oil at this new location are wrapping up. Volunteers and workers assist in the collection, filtration, and processing of used vegetable oil from Truman's dining halls that would otherwise be thrown out. Some of the filtered oil is used to power greenhouse heaters at the farm but the finished biodiesel is used to run one of the farm's trucks and one of its tractors. If you are interested in learning more about the lab's work, how to volunteer, or how to sign up as a scholarship worker for the lab please email Bill Kuntz (University Farm Manager) at brkuntz@truman.edu.
Communiversity Garden: The Truman State Communiversity Garden is an organic, hand-tilled, on-campus garden dedicated to instructing members on sustainable agriculture techniques such as organic crop production, permaculture system design, seed-saving, and food preservation methods. The garden serves both as a means to produce fresh, nutritious food and a teaching tool for community members that are interested in learning more about sustainable gardening. The garden also hosts a number of on-campus community events throughout the year, and partners with various on-campus and community organizations to help grow the local foods and sustainability movements in Kirksville. The Garden Club holds weekly meetings and garden work days through the academic year, which will vary depending upon the semester. If you would like to visit the garden, it is located in front of the Child Development Building in between West Campus Suites and the Student Recreational Center parking lot. If you are interested in learning more about the garden you can email trumancommuniverse@gmail.com.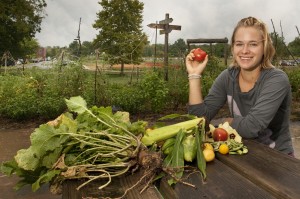 Environmental Campus Organization (ECO): The Truman State University Environmental Campus Organization is a student-led on-campus organization focused on creating awareness for environmental problems, implementing green initiatives on campus, and campaigning for environmental change at the local and national level. ECO's mission is to advocate, educate, and bring environmental concerns to the forefront of the campus and Kirksville community. Throughout the year, ECO partners with a number of other environmental organizations on-campus to host annual events such as a local foods farm-to-table dinner or a week-long celebration of sustainability undertakings on campus. To learn more about what ECO does on campus and in the community, visit the organization's website. If you are interested in getting involved with ECO, contact the current president at trumaneco@gmail.com or email faculty adviser Dr. Elizabeth Hooper at lhooper@truman.edu.
Rot Riders: The Truman State University Rot Riders are an on-campus organization dedicated to reducing food waste in Kirksville by collecting and transporting community compost. The Rot Riders not only seek to divert usable food scraps from landfills, but pledge to do so in a carbon-free manner (on bicycles). Every week, the organization rides around on bikes connected to trailers and collects food scraps from faculty, students, and local off-campus businesses. The compost is then added to community compost at the University Farm or the Communiversity Garden to nourish local community gardens the next season. The service is offered free to all campus and community members, so the organization runs entirely on volunteer support. If you are interested in learning more about the Rot Riders, please visit the organization's Instagram @tsurotriders. If you are interested in getting involved with the Rot Riders or signing up to have your compost picked up weekly, send your name, phone number (optional), address, or your message to rotriders@kvpermaculture.org.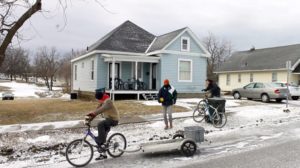 TruOutdoors: The Truman State University TruOutdoors organization focuses on exploring the great outdoors and taking advantage of one of the best free things in life… nature! We conduct backpacking/ hiking trips to places all over the country, from Colorado to Virginia, or right here at Thousand Hills. We aim to help students learn effective hiking and backpacking methods, introducing the subjects of hammocking, proper backpacking gear, how to pack for a trip, trails and hiking destinations, and more. We want to show students job and recreational opportunities that the outdoors provide to us, by having experienced guest speakers and informative learning activities. If you are interested in learning more about, or joining TruOutdoors, email us at truoutdoors@gmail.com.
Community Organizations
Take Root Cafe: Take Root Cafe is a pay-what-you-can local foods cafe that serves healthy, delicious meals 5 days a week in downtown Kirskville. The Cafe is always looking for volunteers to help with everyday operations, which may include bussing tables, waiting on customers, cleaning counter-tops, washing dishes, or cooking meals. Recurring volunteers are encouraged, but the Cafe welcomes one-time volunteers who may be interested in seeing how the non-profit is run or would like to exchange one hour of work for a meal token. Groups of individuals and organizations may also volunteer, which could take the form of coming out for a weekly volunteer slot, organizing a fundraiser for the organization, or assisting with large events/outreach. For more information on volunteering for Take Root Cafe, visit the cafe's website or Facebook page, or email cafe founder Jessica Parks at jessica@takerootkirksville.org.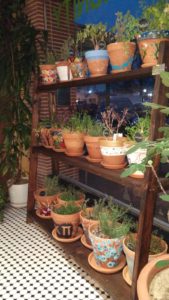 The Green Thumb Project: The Green Thumb Project is an outdoor education non-profit in Kirksville. By providing educational resources to children, parents, and community members, Green Thumb works to support and promote the local food movement. They seek to educate our community in sustainability, create more access to affordable local food for everyone, and create community gardens that will improve the health and wellness of our citizens. Scholarship job opportunities and paid summer internships are available with Green Thumb. Email outdoored@kirksville.k12.mo.us to get involved.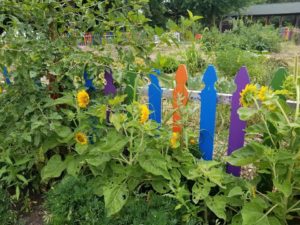 White Rose Catholic Worker Farm: White Rose Catholic Worker Farm is a intentional community organized around ecology, sustainability, and spirituality located at 31167 Ferrier Lane In La Plata, Missouri 63549. The community offers site visits, but requests that you call ahead to set up a time to visit. For more information, call (660)-332-4026.
Dancing Rabbit Eco-village: Dancing Rabbit is an eco-village/intentional community located 40 minutes outside of Kirksville at 1 Dancing Rabbit Ln in Rutledge, MO 63563. The community offers a number of different workshops throughout the year, including a natural building workshop, a permaculture design course, a soap-making and herbal medicine course, and a women's building workshop. The community also offers an online webinar series on how to live a high quality, low carbon life. Tours are offered the second and fourth Saturday of each month, with no reservation required. For more information or driving directions, click here. For other any other questions, call (660)-883-5511.