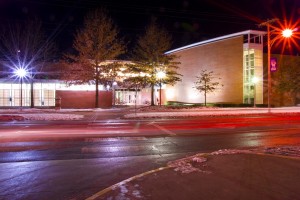 Energy consumption is not only costly, but can result in increased pollutants. Truman State University is working to counter these problems by initiating both small and large scale solutions to lowering energy consumption while also continuing to provide clean energy through our newly installed solar panels.
Click here to see the Utility Dashboard, a resource that allows public access to information about Truman's energy and utility consumption.
Reducing Energy Consumption
Truman State has been measuring its energy consumption and is implementing appropriate measures to lower it. In 2017, we completed a $10.5 million Energy Performance Contract which helps us continue to build a sustainable campus and to save up to $1 million annually. The energy improvements will:
Reduce water consumption by over 8 million gallons annually- this amount of water would fill nearly 14 Olympic-sized pools.
Decrease natural gas consumption by over 50,908 million cubic feet annually.
Reduce electrical consumption by nearly 7.5 million kilowatts per hour annually.
Lower Truman State's annual carbon footprint by 21,000,263 pounds of CO2.
Clean and Renewable Energy
Solar panels are stationed on five different buildings across campus: Barnett Hall, Ophelia Parish, The Student Union Building, Magruder Hall, and the Health and Sciences Building. In the 2020-21 academic year, Truman saw a reduction of 113.5 tons of C02 emissions by producing 162,000 kWh of useable energy from these solar panels.
In 2018 the installation of a solar array at the University Farm was completed, and with new ESFAC funds granted in 2022 the solar system has been expanded. Now, the University Farm is completely powered by renewable solar power!